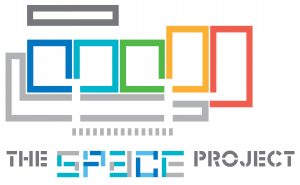 For the 2nd year the BBC's Dragons Den series is being fully recorded at Stage 4 of Manchester's innovative and efficient 'Space Project' close to Piccadilly and the city centre.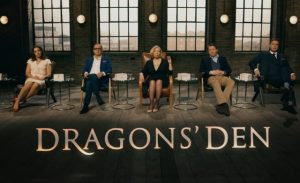 In a radical upgrade, the Production management have eschewed the laborious multiple single camera recorder format and taken the full blooded as-live outside broadcast option – with a twist.
Media IP Networks has been engaged to ensure all the HD camera, GoPro, 5.1 audio technology and mechanical functionality of the OB vehicle are guaranteed to the client, the BBC. Also we have integrated the truck's IP infrastructure into the studios' for monitoring, VoIP and Internet connectivity.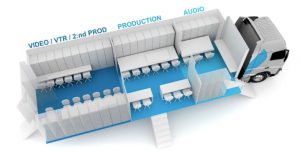 The large 'cruiser class' OB Unit 2 from Bedford-based facilities contractor Puls8 will be on station at the studios for the whole recording run of 6 weeks providing full audio and visual recording support to local Avid Airstream disk recorders.
In addition all the 12 cameras are being simultaneously recorded in Dock 10's Salford facility on the other side of the City over a Reidel Fibernet loop.
Although this incurrs the additional expense of a dark fibre between the sites this is more than offset by the time saved in ingest at the large edit facility – all the material is ingested and reviewed continuously as-live with no need to transport and play tapes or cards.
Despite no failures of the innovative and efficient fibre connectivity all feeds are also recorded locally in the OB vehicle for safety. Dragons Den's original content is too fragile to lose a second. Re-recordings for lost content are not an option.
Additionally the excellent lighting and vision crew have lit and matched all the sources – 9x x Sony HD1500 line cameras and 8x GoPro cameras. This to has rendered a large part of the previous workflow, specifically 'the grade' totally unnecessary, potentially creating a significant saving.