Mediacity data connectivity supplier, Dock10, has installed a full 100Mbps internet data uplink to post-production tenants in The Pie Factory.
Consultant Cisco engineers for Media IP Networks have since successfully commissioned a full-featured, 'layer 2-only' Virtual Private Network (VPN) over this link to connect remote media and office services to the editor suites, ingest and dubbing theatre in Mediacity's University of Salford building.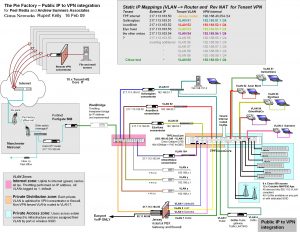 This secure, reliable opensource solution allows full integration of Avid, Editshare and regular TCP traffic across diverse sites with VLAN'd Cisco infrastructure. It also fully integrates with the existing twenty+ PPP VPNs used by remote users and teleworkers to now present the whole IT estate to authenticated users.