Although a keystone in the developers' plans since the first draft back in 2007, a transparent, open, high speed and stable internetwork between producers, facilities and broadcasters in MediacityUK has been elusive up to now and is essential for Phase 2 over the next 10 years.
Market research by MediaIP Networks is underway to clarify business requirements and define sustainable services for a campus-wide media network. The results of this research will in turn enable Media IP Networks to confidently build partnerships with service providers already established in MediacityUK such as Metronet, BT Dock10 and Geo to deliver an integrated network infrastructure.
Currently the research suggests that there is a significant demand for 1Gbps to offices and 10 Gbps to facilities for the storage, processing or replication of extremely media large files, principally in high definition but also in 4K. Similarly early responders have expressed interest in the network to 'stream' media in realtime for presentation or editing between facilities and to preview theatres.
Interestingly, several network technologies, old and new, are appearing consistently:
Spline planes supporting multilinked distribution switches in studios and edits.
FTP for file transfer in the guise of Signiant, Digidelivery et al
VLAN over VPNs for easy access to MS Windows shares and LAN apps
Traffic Shaping to protect VoIP or remote control protocols.
Internet access at minimum of 100Mbps to remote, off-campus facilites.
Multilevel firewalls to protect sensitive data whilst still permitting client and remote user access.
Integration with global managed networks beyond Mediacity such as Sohonet.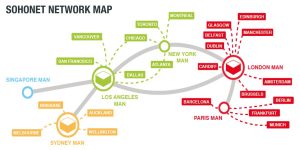 Further notes and interesting results from this research will posted here as appropriate.
Please visit us again and please add your own comments, suggestions and of course, any feedback!